Official Price Guide to Collector Knives 15th Edition:
C. Houston Price & Mark D. Zalesky
"The Official Price Guide to Collector Knives is designed for all collectors, from novice to expert, and presents information about the hobby, its history, and value identifications. The 15th edition includes fully-updated prices, 50 pages of new listings, 100 new black-and-white photographs, and for the first time, an eight-page full-color insert."
At Amazon.com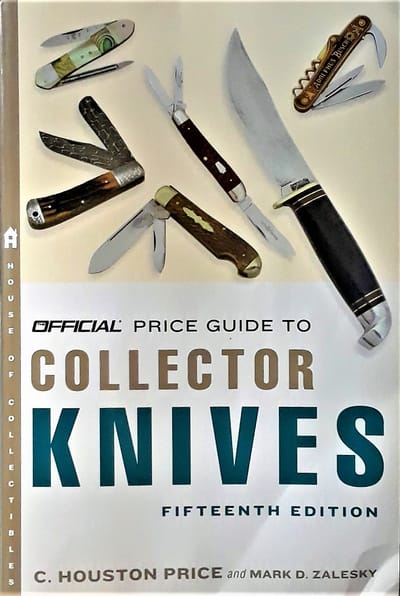 GOINS ENCYCLOPEDIA OF CUTLERY MARKINGS:
John and Charlotte Goin
This book is the result of over 30 years of work by John and Charlotte Goin. This "Encyclopedia" is the compilation of all previous books and extensive research to produce one of the best collections of knife companies and markings you will find. This is a reference book that every serious collector must have in their library.
At Amazon.com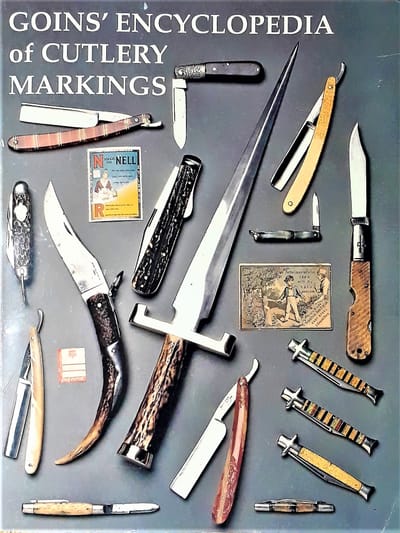 Old Knives, Xx, and More:
By Tom McCandless
"Author Tom McCandless, a longtime knife collector, explores the history of Case knives from their beginning to 1920 in Old Knives, XX, and More. He also chronicles his own experiences as a collector in building knowledge, networking with dealers and vendors, and finding answers to questions of value and authentication. If you want to know more about collecting knives-including pattern numbers, handle materials, grading conditions, and pricing-this book is an essential resource."
At Amazon.com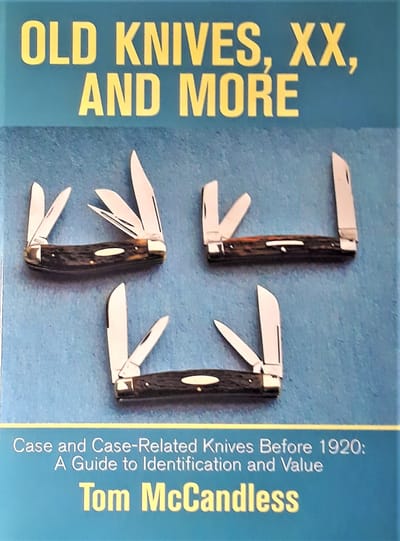 The Standard Knife Collector's Guide 6th Edition:
Ron Stewart
"This book lists literally hundreds of manufacturers of cutlery from all over the world. The easy-to-use format allows the collector to become an expert in evaluating or appraising knives by using the RBR evaluation scales. There are overviews describing the histories of major knife companies, a section on commemoratives and limited editions, clubs and organizations, numbering systems, and a section on identifying knife patterns. This book is a must for the experienced as well as the new knife collector."
At Knife Magazine
Knives Digest 1:
By Ken Warner & Bruce Voyles
Ken Warner and J. Bruce Voyles between them have edited or written over 50 books on knives and guns, edited over 400 issues of magazines, and have also claimed the highest awards within the cutlery industry. Both are Cutlery Hall of Fame members, both have received the Don Hastings Award from the American Bladesmith's Society and the Nate Posner Award from the Knifemakers Guild. These two awards are the highest awards given by those two leading organizations.
At Knife Magazine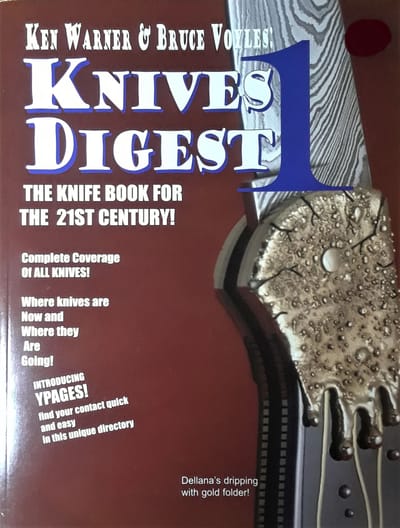 Politically Incorrect And Proud Of It:
By David L Roberts
Nothing to do with knives, but it is another one of my books expressing my opinions on many of today's issues and how I believe liberalism and political correctness is destroying America, the family and the Godly nation we use to be.