Red Devil Tools
Red Devil, Inc. is the best known US manufacturer of glazing tools and putty knives, and they also made cement tools at one time. In March 1898, Landon P. Smith (1869-1946) and John Francis Hemenway (1856-1926) founded Smith & Hemenway Co. in New York City. Among other hardware products, they sold glass cutters. Although it began as a sales and import firm, Smith & Hemenway soon began manufacturing their own tools using Red Devil as a company trademark.
Red Devil Tool Co. was located at 2400 Vauxhall Rd., Union, New Jersey in late the 20th century. The former Red Devil facility, Union NJ, is now demolished. Red Devil, Inc. is still a family-owned business, located in Pryor, Oklahoma.
Now let's get to the identity of the knife that's not really a knife. My research shows this to be a Red Devil Putty Knife. The trademark on the blade of this putty knife was first used in 1948, "Red Devil Union N.J. U.S.A. P1-1 ¼ S." Red Devil must have had a government contract because according to the register of federal specifications there were several putty knives listed. The P1 would indicate Putty Knife Series 1. The 1 ¼ is the width of the top of the putty knife blade in inches and the S stands for "stiff." Also F was used for "Flexible" which meant the blade was thinner and could bend more during normal use. The bolster is made of pewter to avoid corrosion, the pins are brass and the handle is made of either Mahogany or Cocobolo wood from Central America. Cocobolo was specified for use in the 1939 federal specifications manual.
The type/size of putty knife used

The knife after it was made

This knife, shown above belongs to a family member, Eli, who received it from his father-in-law, Max. It was stated that it belonged to Max's father, Warren, and that he kept it in his USAF toolbox all the time. So the mystery is who made the knife and how did they get their hands on government issued tools?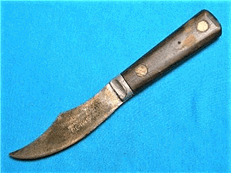 It wasn't Red Devil Tool Inc., I'm certain of that, because it doesn't show up in any product catalog, civilian or military, that I can find and I contacted the company. A spokesperson for the company told me it was their "putty knife" made in accordance to government specifications, but not their skinning knife, it was made by someone else. Was it Warren that made it, I don't believe so, and here's why. It's not the only one out there and I don't think he as a Senior Master Sargent would have had or taken the time to do it. I've found one on eBay, shown above, listed in Spanish as a "homemade" knife. So I believe there are more than one of them and the one on eBay is almost a twin.
Warren joined the USAF in 1948 and was stationed in El Paso, TX in the early 1950's. Is there a connection here where some Air Force personnel were using government issued putty knives from supply and turning them into a custom homemade fixed blade skinner style survival knife made from an old putty knife? Personally I doubt they were. Could there have been a local citizen that was getting his hands on the Red Devil putty knives from base personnel and turning them into these skinning knives and making money selling them? We may never know, but I believe these two knives were made by the same person, because the shape of the blades is almost a perfect match. Right now there could be a number of these homemade knives out there and for me they fall into a special category of "folk art."
My research also reveals that for hundreds of years people have been making knives from other objects. I think the term today is "repurposing." As far back as 1902 Hoyt Buck (Buck Knives Inc.) started by making knives from worn-out file blades after heat treating them with a special process that he had developed. Later he and his son Al made knives for U.S. servicemen during WWII out of whatever they could find and turn into a knife blade.
There is an entire art in making knives from railroad spikes or steel rebar. Old boxed end or open end steel wrenches can make excellent small knives. Today lawn mower blades are a very good choice for large blade knives. If you have the tools, cutting special blades out of shovels, hoes, old saw blades or any strong carbon based steel is great for the purpose of making custom knives.
Back to our knife, if there are very few that have survived then it would be a rare find. Now that doesn't automatically make them valuable. I would rate this one as in "Very Good" condition and place a retail value on it around $30.00 and at the right auction it could sell for $50.00 to $85.00.