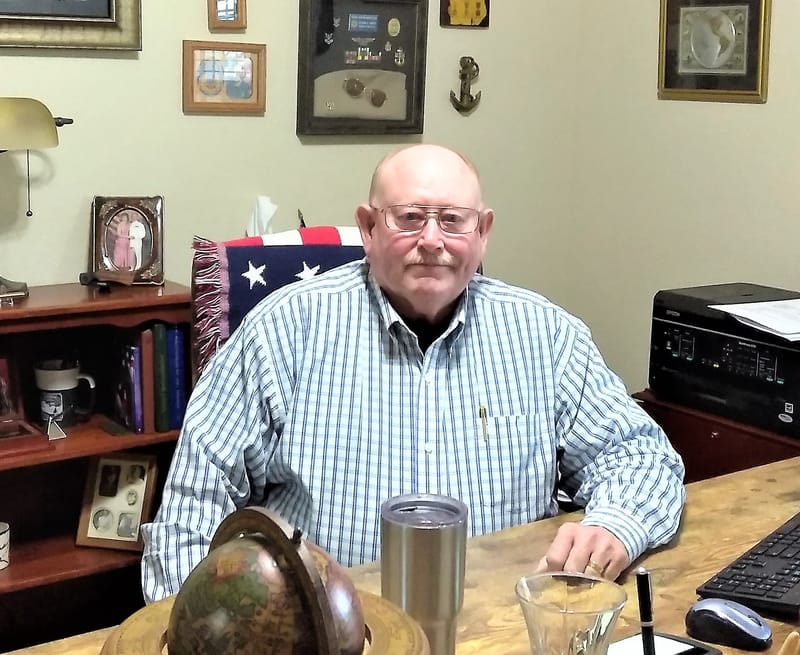 Hello friends, my name is David and it is my pleasure to welcome you to my new website displaying my collection of knives. I've been an amateur collector of knives now (2017) for about six years and I thought it would be fun to share my collection with as many of you as possible and to share information with each other that could help us both. In no way am I presenting myself as an expert on knives, a historical authority or as a professional. It's my retirement hobby and I still have a lot more to learn from all of you.
I grew up in North Texas and joined the U.S. Navy in February 1971. I had a 26 year career as an air traffic controller and airport/airspace administrator. I didn't even get interested in collecting knives until I was out of the Navy. In August 2016 I retired again this time from Dallas/Fort Worth International Airport, Department of Public Safety.
I've had formal training and studies in Air Traffic Control Operations and Airport/Airspace Management; Aviation History & Aviation Law. I'm also an amateur writer. I've written several unpublished books including my autobiography "My Journey"; "Folding Knives; A Beginners Guide for Amateur Collectors;" "Random Thoughts Of An Old Man, I'm Right Again." Now I'm working on two more books and of course this website.
Here is a link to my book on folding knives. Hope you will take time to read it.
https://www.dropbox.com/s/wghgo0l0agf8lmo/Folding%20Knives%202016R.pdf?dl=0
My wife and I enjoy traveling around the country, especially Texas and going to Antique Malls, Trade Days, and Flea Markets. Sometimes my brother and his wife will join us and we have a great time searching for all those little treasures. I hope to write many blog entries telling you about our trips and the great finds we discover.
A SPECIAL DEDICATION: To the countless number of skilled craftsmen, artisans and many entrepreneurs of the past and present, that have staked their fortunes and reputations, striving to create better quality knives for just the right task, we thank you. We thank you and honor you with collections and sites such as this to hallmark your creative work and designs.
"And take the helmet of salvation, and the sword of the Spirit, which is the word of God. Ephesians 6:17